1
of
25
Get ready to immerse yourself in the fascinating world of cultural diversity! We will introduce you to the most unusual and remarkable traditional wedding attire that reflects the richness of the global cultural mosaic.
Ukraine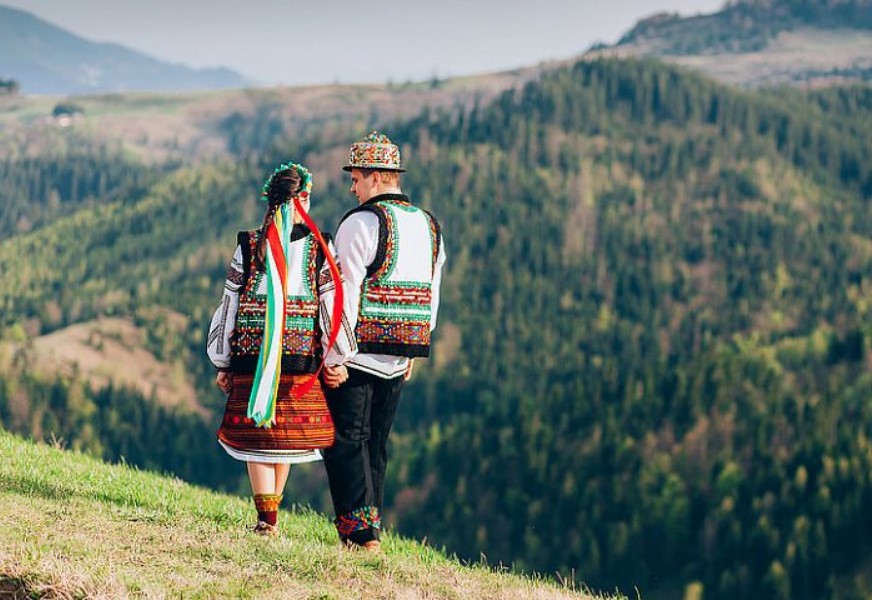 The wedding attire of the Hutsul ethnic group, who have lived in the Ukrainian Carpathians for many centuries, is more authentic than in other regions of the country. Hutsul clothing is distinguished by intricate embroidery and a plethora of colorful decorative elements. Brides often wear embroidered skirts and wide blouses, and they always adorn their heads with a wreath or scarf. Hutsul weddings are celebrated with great noise and joy, featuring dances and entertainment.
Kazakhstan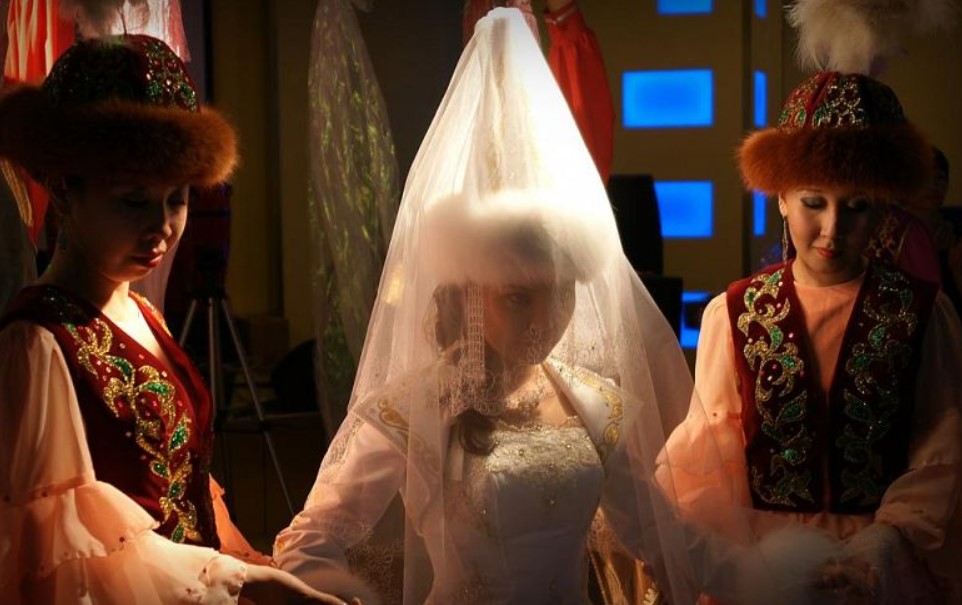 According to Kazakh traditions, brides wear a headpiece known as "saukele." This conical accessory is adorned with intricate patterns and complemented by a veil. The preparation of the saukele for a girl begins long before her wedding day.
Japan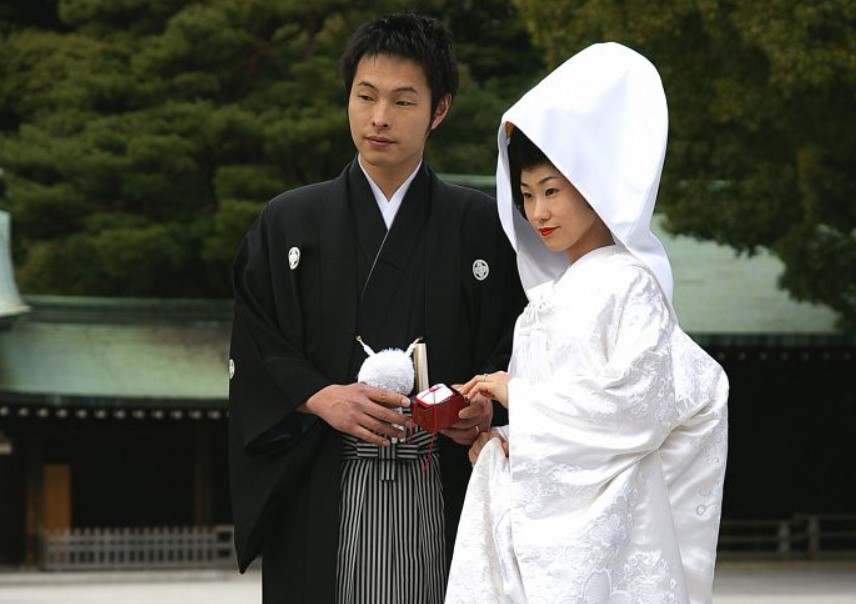 According to Japanese traditions, brides wear a white kimono for the wedding ceremony as a symbol of their purity. After the official part of the event, they may change into a red kimono, symbolizing luck.
Mongolia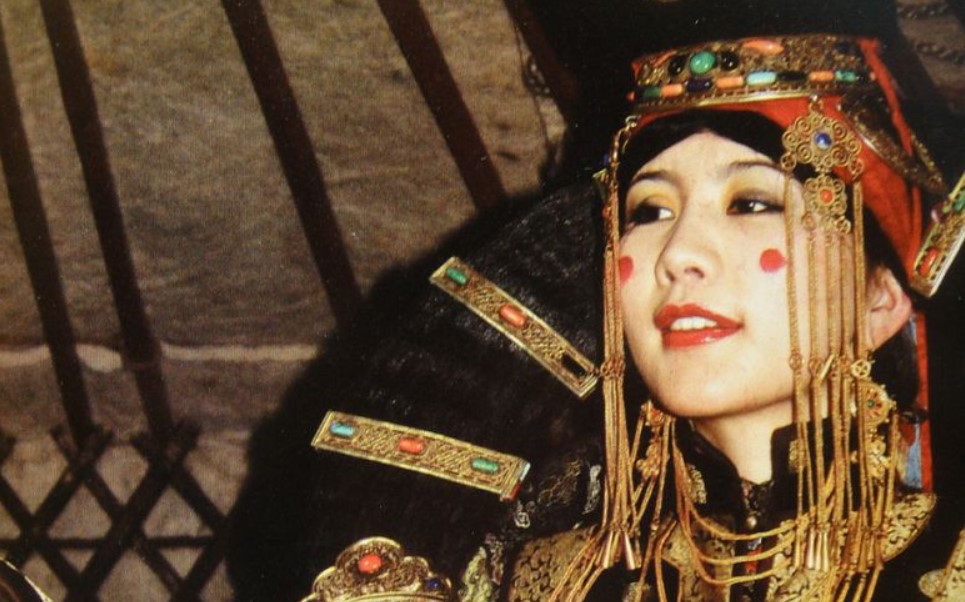 According to Mongolian traditions, both the groom and the bride wear "dil" costumes for the wedding. These outfits are patterned garments that have been worn by Mongolians and other nomadic Central Asian tribes for many centuries.
Scotland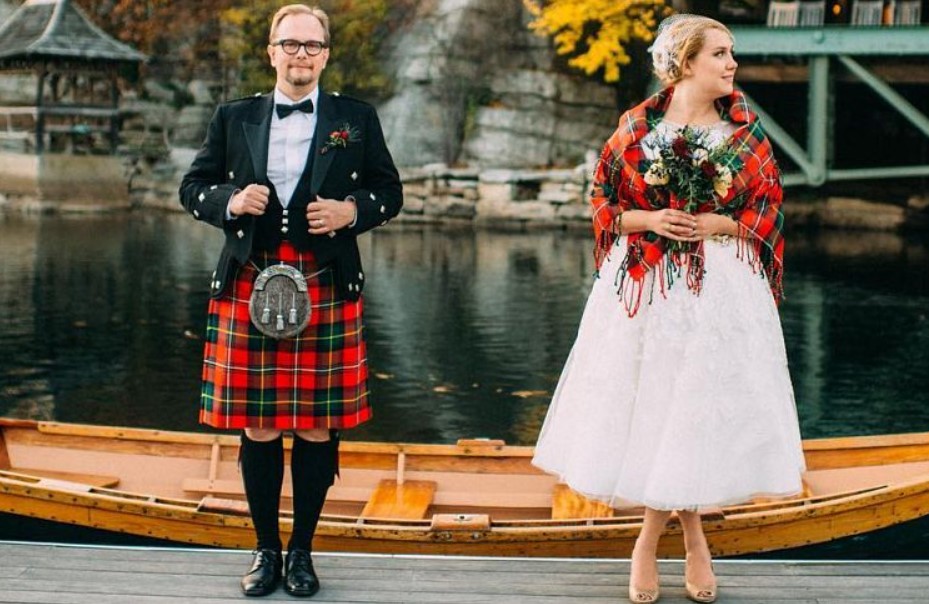 In Scotland, men wear the kilt of their clan for the wedding ceremony. After the marriage, the bride drapes a shawl of her husband's family tartan over her shoulders, symbolizing her transition into the new clan.
Romania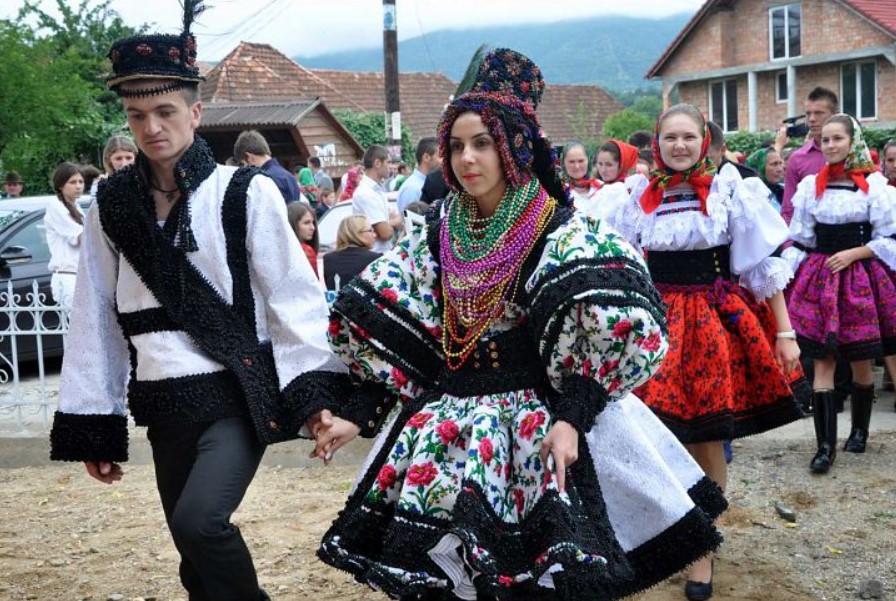 In Northwest Transylvania, weddings are considered very important and responsible events organized by the parents of the bride and groom. They prepare outfits, dowry, and the wedding ceremony itself for the groom and bride.
China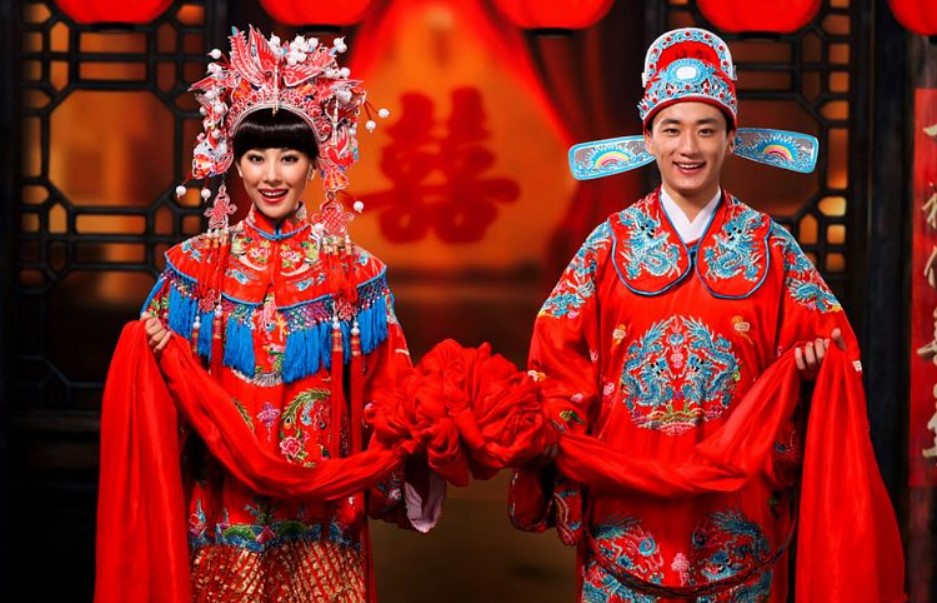 In China, red is believed to bring luck and ward off evil spirits. That's why most newlyweds in the Middle Kingdom prefer this color when choosing their wedding attire.
Norway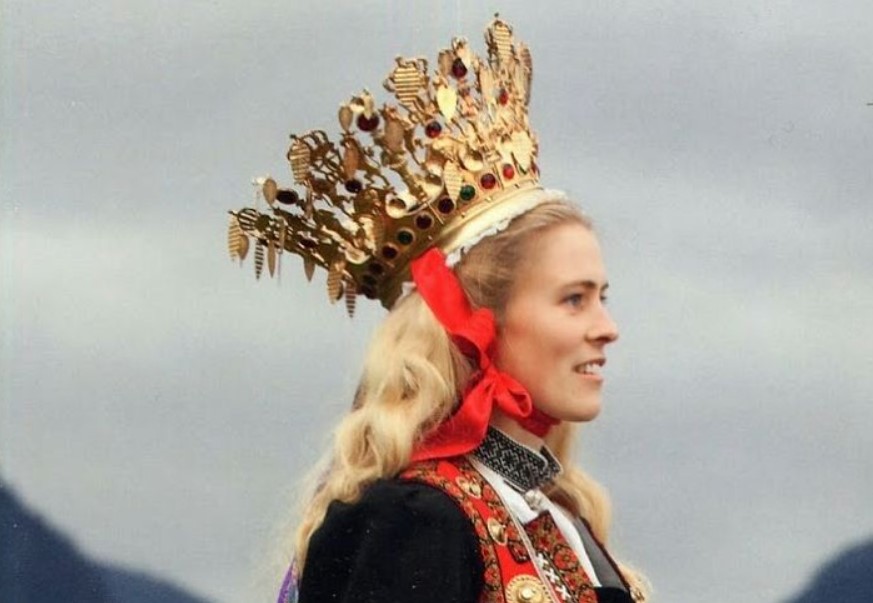 The traditional wedding attire in Norway is called "bunad." It is customary to wear it not only for the wedding ceremony but also for other significant events like baptisms. A crucial part of the wedding ensemble is the headgear, resembling a crown. In the past, it would be adorned with various precious ornaments, depending on the bride's family's financial status.
Hungary

According to Hungarian traditions, the bride's wedding dress should incorporate three colors and feature floral embroidery as decoration. The dress's hem may be multi-layered, and the headgear must include wheat stalks woven in.
Indonesia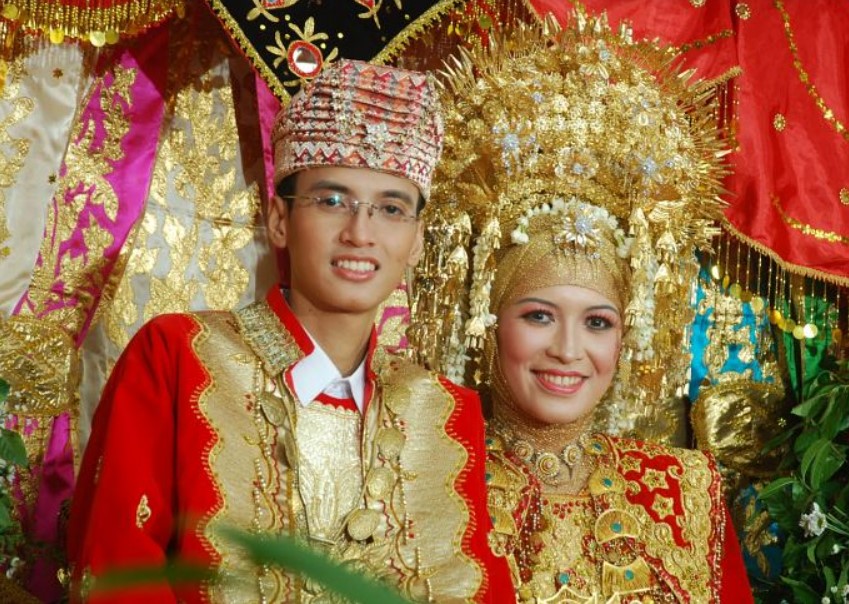 Indonesia is home to over 300 ethnic groups, so wedding attire varies among them. Most bridal dresses feature vibrant colors and intricate decorations. Additionally, the bride's body is adorned with henna tattoos, which are believed to bring prosperity and happiness to the newlywed couple.
Ghana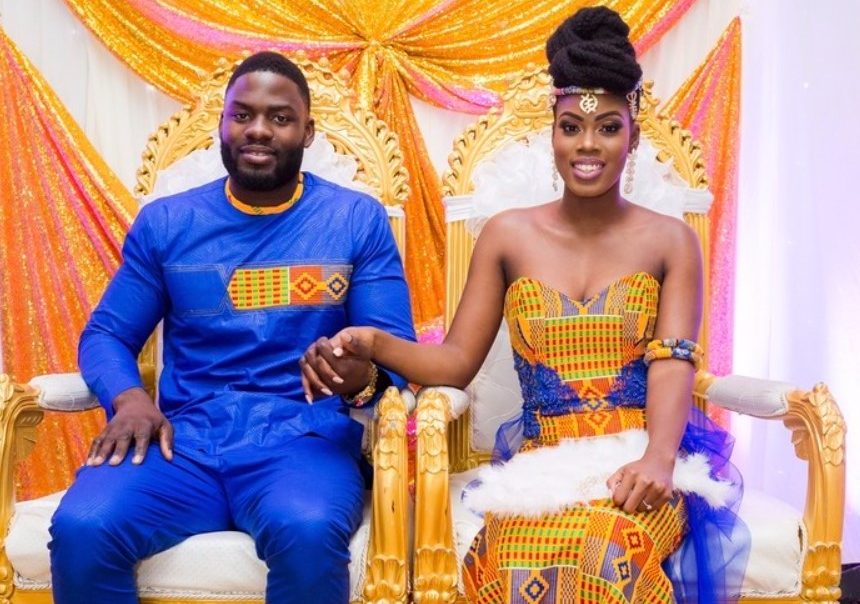 The secret to Ghanaian wedding fashion is the color gold. Dresses are often tailored from traditional kente cloth, which is handwoven from strips of silk and cotton that create intricate patterns. Typically, Ghanaian brides wear shades of yellow and gold. They also adorn their heads with fabric or beadwork headdresses and wear a matching scarf made from the same handwoven fabric as the dress, featuring plenty of yellow hues.
Morocco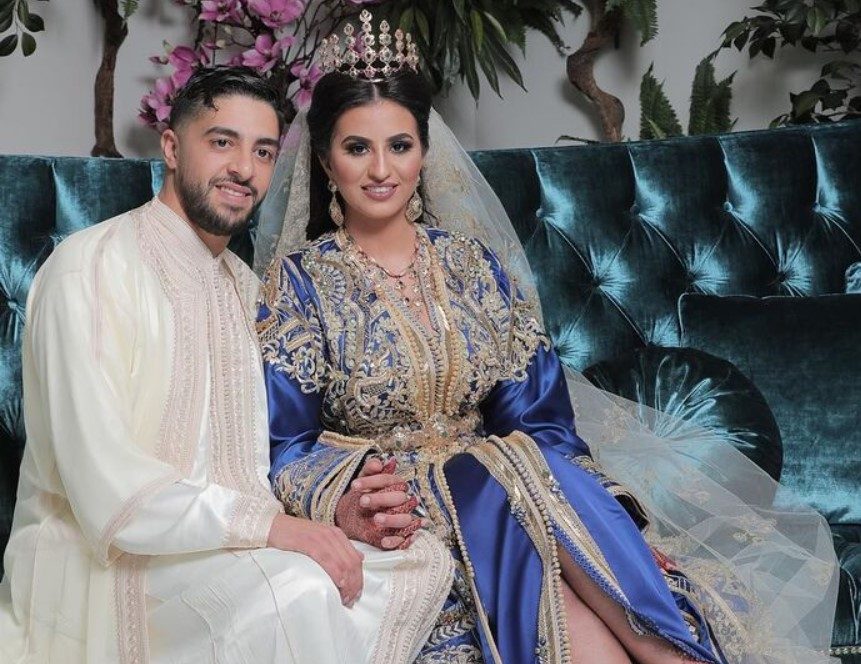 Moroccan brides typically change into several dresses during the course of their wedding, and each dress carries its own significance. At the start of the wedding, the bride dons a beautiful and intricate white kaftan known as the "takshita." It is adorned with luxurious fabrics and gold embroidery and consists of several parts, including the base kaftan, a gold belt, an open jacket, and a headdress.
India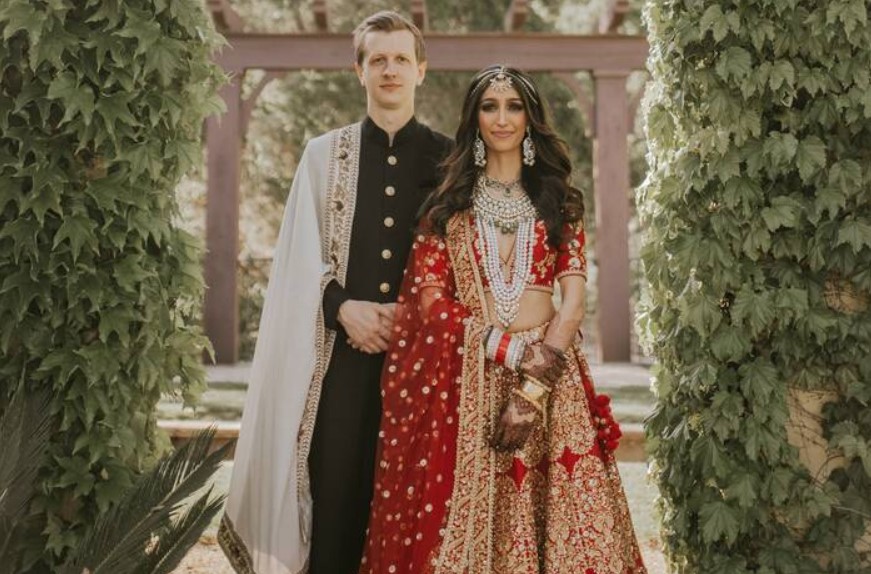 In India, brides wear richly adorned sarees on their wedding day. The bride's attire is always in the color red, symbolizing prosperity.
Nigeria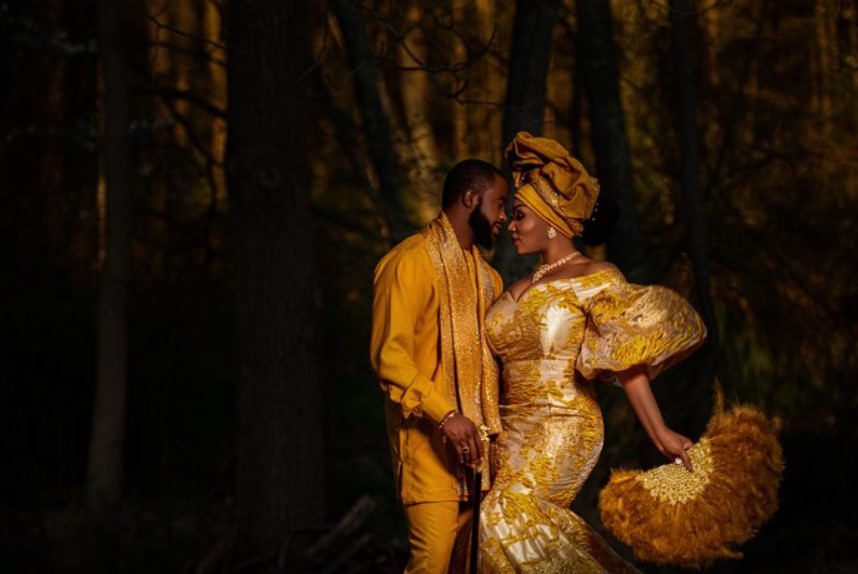 Nigerian brides wear traditional attire with a kaftan made from bright-colored fabrics and a large headwrap. The traditional clothing is called "aso oke".
Turkey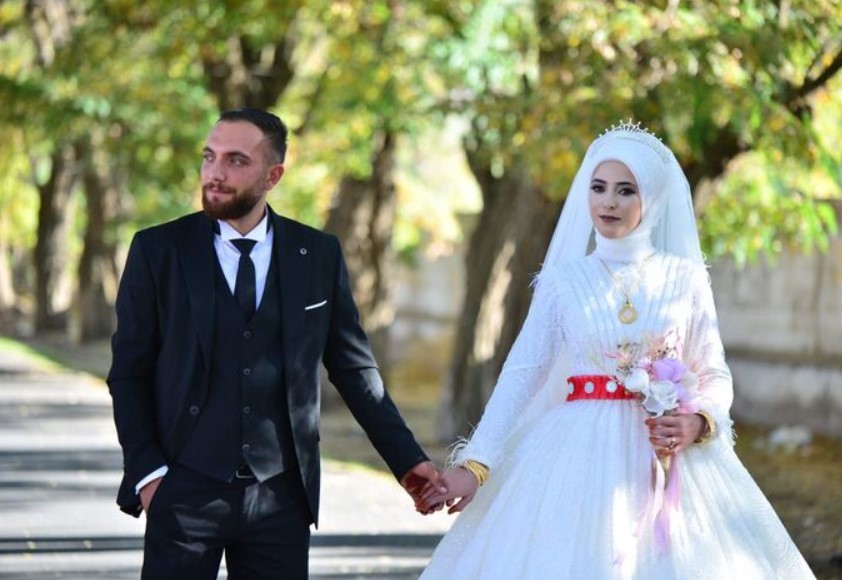 Traditional wedding dresses in Turkey are beautiful white gowns adorned with intricate beadwork, featuring voluminous and elaborate designs while still maintaining an elegant appearance. Additionally, on this day, the bride wears a hijab, a headscarf worn by Muslim women. A unique aspect of Turkish wedding attire is the red belt, traditionally tied around the bride's waist by her brother or uncle. The red belt symbolizes innocence, good fortune, and happiness.
Peru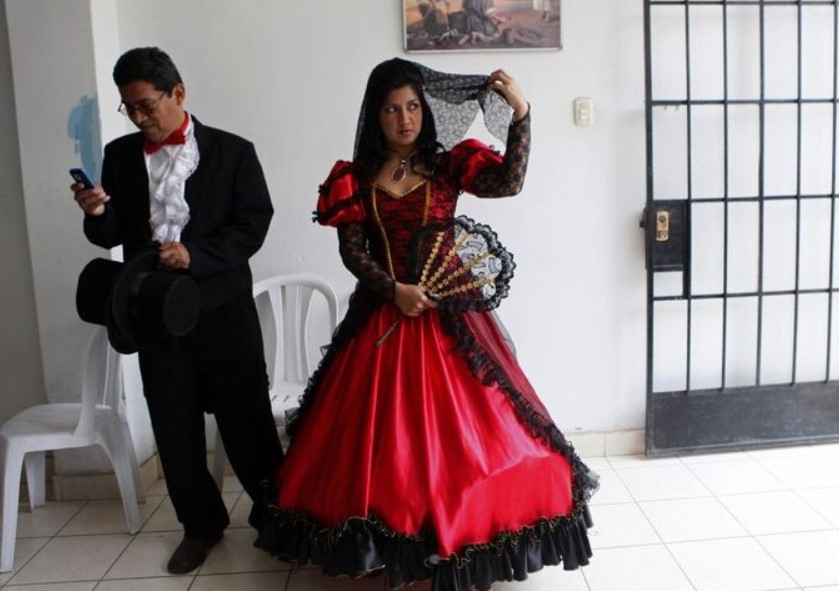 If red and black are your elements, you'll definitely appreciate Peruvian brides. In the capital of Peru, Lima, brides traditionally dress in shades of red and black. Their attire typically includes voluminous cotton skirts and numerous accessories.
Ethiopia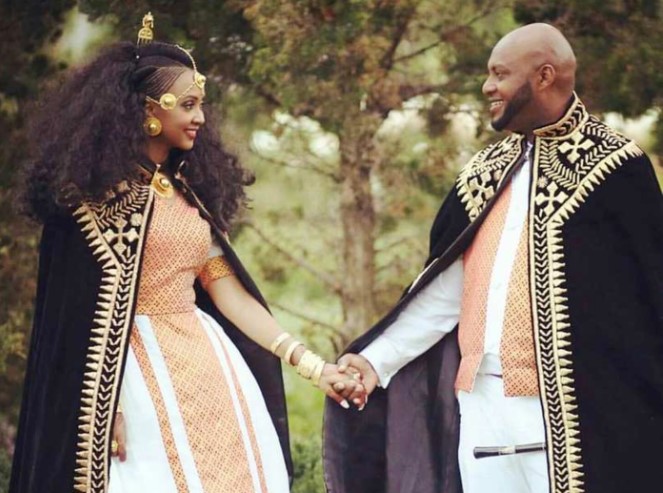 An Ethiopian bride typically wears a dress called "habesha kemis." This dress is quite long, reaching the ankles, and is handwoven from cotton fabric. It often features beautiful patterns with woven-in gold details and numerous colors. Regardless of whether the bride chooses a traditional wedding dress or a modern white one, the "kaba" jacket is a mandatory element of the wedding ceremony for both the bride and groom. The jacket is adorned with gold or silver embroidery and can be either short or long, similar to a wedding gown train.
Sri Lanka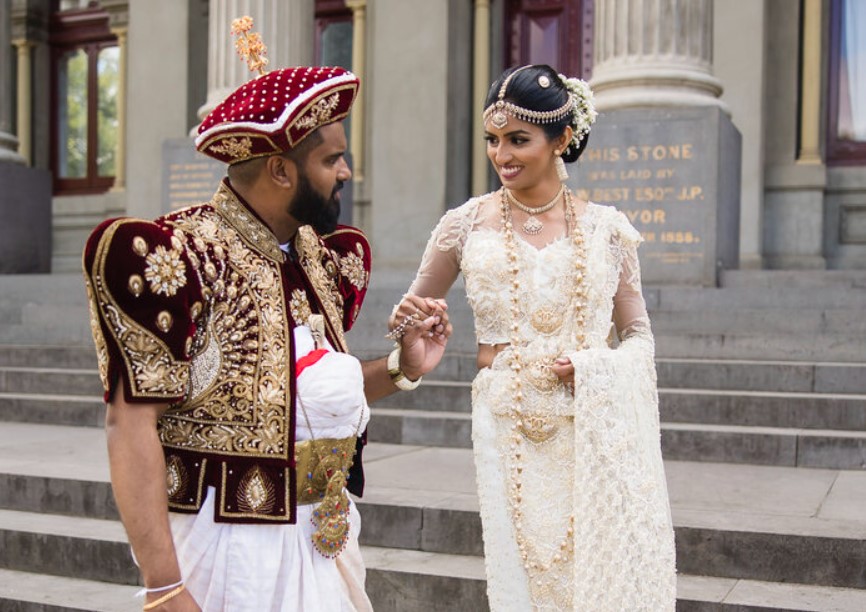 In Sri Lanka, a bride's attire combines Eastern and Western traditions. The people of Sri Lanka are somewhat superstitious, so there should be an odd number of decorations and patterns on a Sri Lankan wedding dress, as odd numbers are believed to bring luck. Sri Lankan brides wear luxurious silk saris and a European-style veil.
Greece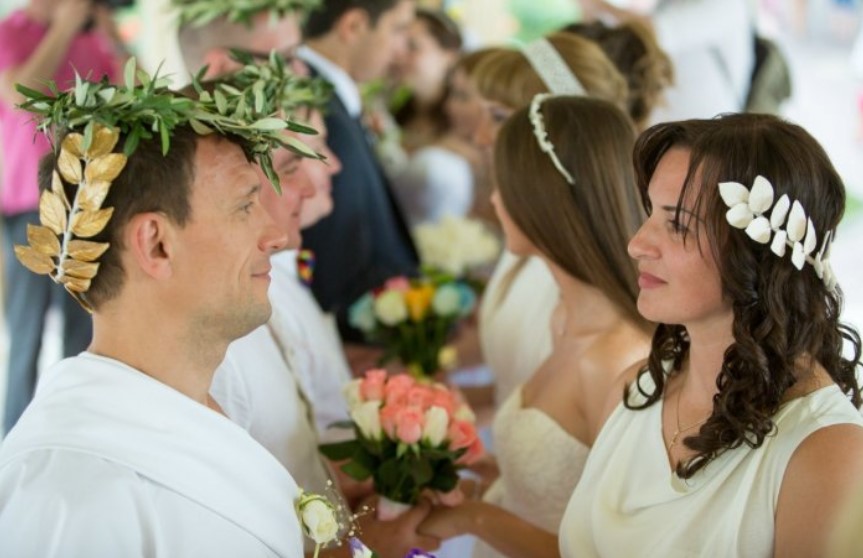 Greece. A Greek bride typically wears a long white gown adorned with golden embroidery and a golden belt. The main feature of a Greek wedding attire is the crowns, bound together by a ribbon, which the priest places on the heads of the bride and groom just before the wedding ceremony. These crowns symbolize the unity of the newlyweds. After the ceremony, the ribbon-bound crowns are replaced with beautiful wreaths made of green branches. Greek dresses in terms of style and design resemble some of the world's princess wedding gowns.
South Korea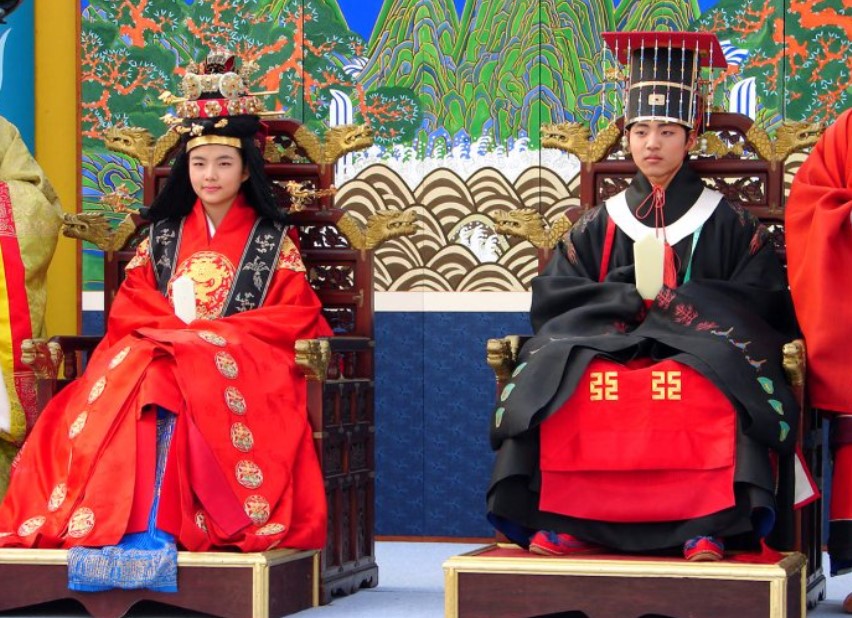 In South Korea, the bride and groom wear traditional wedding attire called "hanbok," which differs from the wedding attire of many other cultures. The bride typically wears a wrap-around skirt and a cropped jacket with long sleeves. The groom is often seen wearing trousers, a jacket, and an elongated vest.
Poland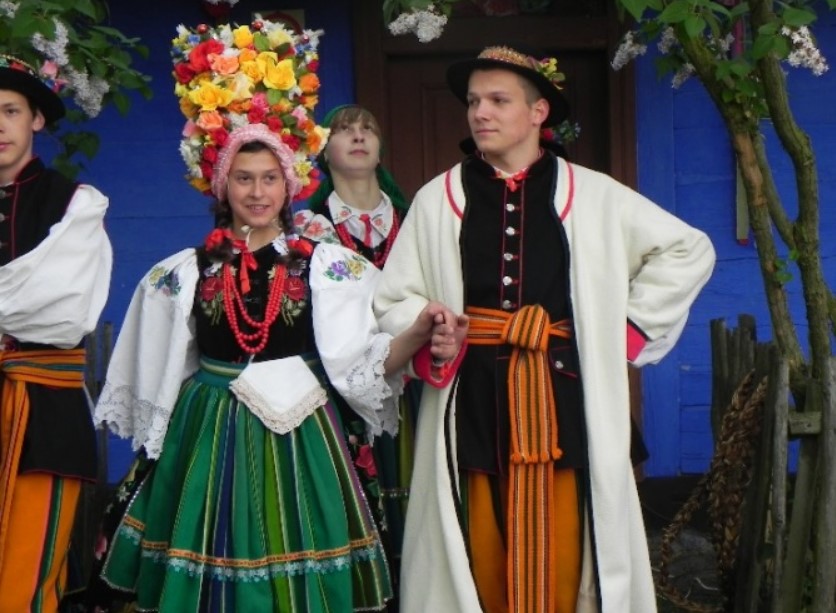 The traditional dress of a Polish bride stands out with its warmth and unique character compared to wedding attire from other cultures. A Polish bride typically wears a beautiful white dress adorned with floral embroidery, along with a headpiece or a wreath. Occasionally, a touch of red is added to the ensemble with a sash. The dress always covers the bride's legs. Pearls are not included in the bride's attire, as they are seen as a symbol of the husband's irresponsibility.
Metohija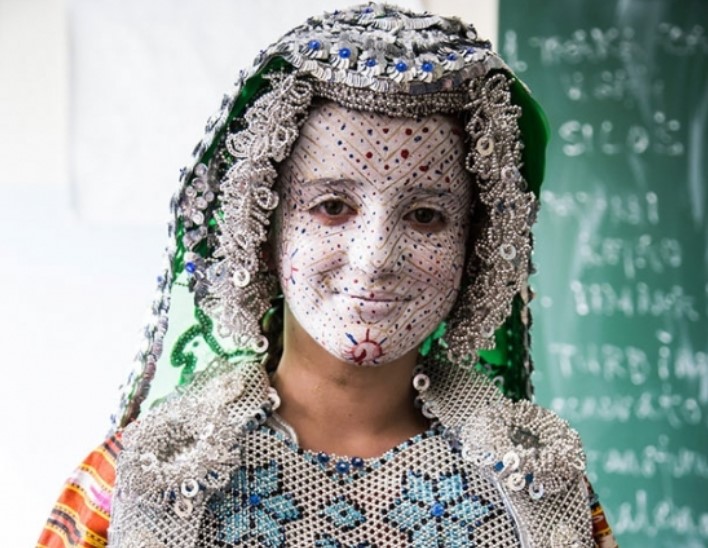 In the Gora region, situated between the Republic of Kosovo and Macedonia, there is a group of people who are Slavic Muslims. Their traditions are a blend of various influences, so despite their Muslim faith, they have preserved many pagan traditions that continue to influence the appearance of brides. Therefore, the women in this region have special facial tattoos or markings.
Bulgaria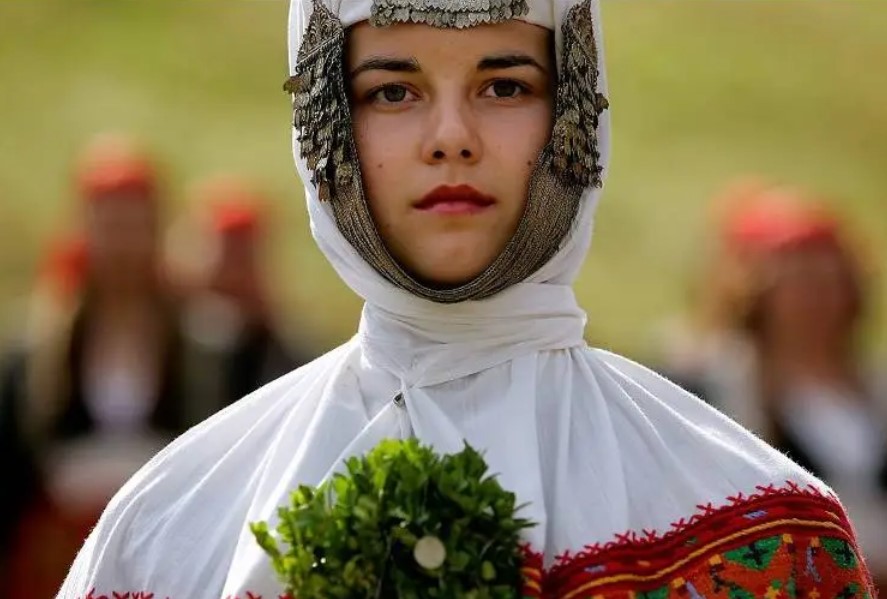 A girl from the Rhodope Mountains region in Bulgaria dresses in a long gown. The wedding dress is adorned with hand-embroidered ornaments.
Nubia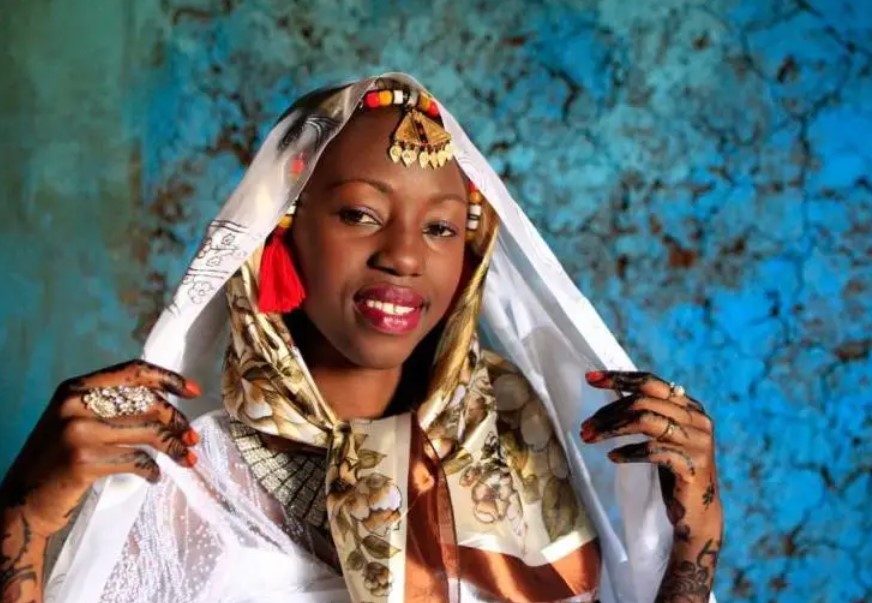 In traditional Nubian attire, there are three headgear elements: a floral-printed scarf, a white veil, and a transparent veil.
Tibet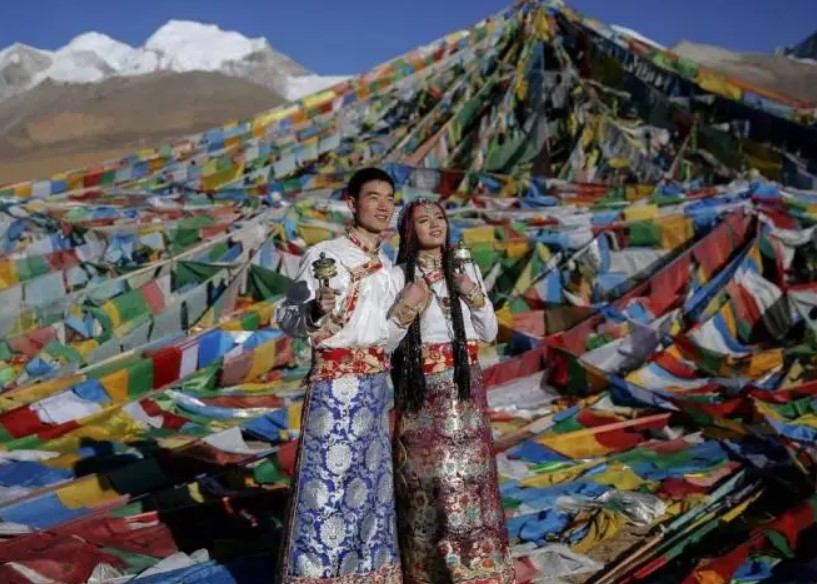 Tibet. The choice of wedding attire and accessories is the responsibility of the Tibetan groom. It is he who must bring his beloved's clothes for the upcoming ceremony a day before the momentous event.